Christine DeMita, CPT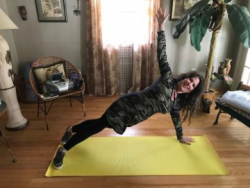 Even as a child, Christine was very active. She started ballet at the age of 4, continuing until the age of 13. She also did tap and gymnastics. In her early 20s, she started into a more holistic lifestyle which included bodybuilding and holistic medicine. Nineteen years ago, she had an opportunity to teach Yoga for the Portage Lakes Fitness Center – and her career in the fitness industry was born!
Education
Neta group exercise and personal trainer certified
200 plus hours certified Brahymishi yoga therapist – (teach people how to heal through breath and movement)
SilverSneakers Certified classic, circuit, chair yoga, and Splash water aerobics.
CPR certified
Tapping Certified – emotional and stress release techniques
Finalizing a 50- hour Pilate Certification in 2022
Experience
Portage Lakes fitness center – Group exercise, water aerobics, yoga
Lake Anna YMCA – Water aerobics, group exercise, Pilates, Yoga, SilverSneakers, Zumba, Fitness Floor attendant, & Personal Trainer
Infocision Call Center - Fairlawn & Green locations – Corporate group exercise & personal trainer, stress management workshops
Shaw JCC of Akron – Fitness Professional: Fitness Floor attendant, group exercise classes: SilverSneakers Splash, Circuit, Classic, and Chair Yoga. Personal Trainer & Fit Plan coordinator.
Teach yoga & stress management workshops
Corporate lunch and learns
Traveled Summit DD teaching fitness to staff and handicapped
Build A Body PT – Yoga, Silver Sneakers, Personal Trainer
My specialty is functional fitness, stress management, and holistic lifestyle. Functional fitness is teaching people how to move for everyday life and health. Preparing people for things like knee and hip replacements. Then follow up after they are released from rehab with exercise that will help maintain independence and quality of life. Also, individuals who need a simple approach to get fit – no matter their age. Stress management is learning how to breathe and move in ways that help us emotionally and mentally. A holistic lifestyle marries functional fitness and stress management with healthy eating for a winning combination of optimum health.