Meet the Owner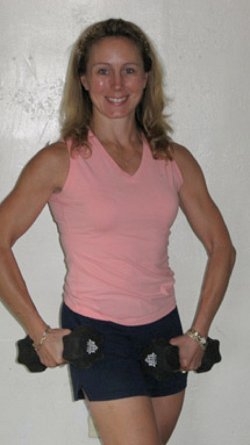 Build A Body Personal Training was founded by Lisa Kelleman-McClain, CPT. She began her personal training career at the age of 30 in January 1996. Lisa has been active her entire life while participating in softball, track, cheer leading, gymnastics, dance, jet skiing, ATV riding, and anything a bit active and daring. Always an active sports participant, her story begins in the personal training realm in a relatively funny way. Upon showering one morning, she noticed her hip having a little more density to it. After noticing the other hip was the same, she thought to herself, "Well, I either have to give up my cookies and brownies, or I start working out." After little contemplation, she decided to start exercising. She set a very attainable goal of 20 minutes per day, twice a week. Of course, she exceeded that goal with the intention to be fulfilled with attaining it. After 3 months, she went to scratch her shoulder and noticed it was as hard as a rock. Touching the other shoulder, she immediately knew that exercising and building muscle mass was working! She gained muscle, built her metabolism and was hooked! She became certified as a personal trainer and now holds over 15 certifications in personal training, group exercise, seniors' training, etc. Without batting an eyelash, she intends to change the world with her knowledge in order to help everyone become aware of their capabilities.
So passionate about her career and her business, Lisa studies constantly to provide the best and most thorough information for her clients. Although very knowledgeable, she also feels there is always more to learn. She only intends to pass on this information to clients in order to help them achieve the strength, balance, flexibility, capability, agility and performance that each one of her clients hopes to reach.
With a relationship with other health-related professionals, Lisa has built a network of health professional to include doctors, dietitians, chiropractors, massage therapists, nutritionists, cosmetic surgeons (for those who have lost a tremendous amount of weight and need cosmetic surgery for excess skin removal), physical therapists, etc. Her only goal is to assist you in exceeding your own health and wellness aspirations along with educating you on the benefits of exercise, proper nutrition and living a safe and long life.