Nate Wise, CPT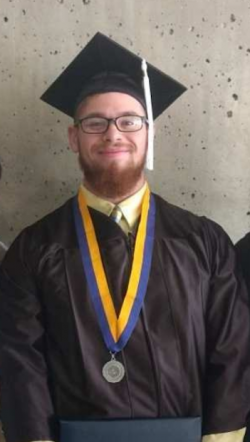 Growing up, Nathan enjoyed being active and playing football. Many years of football and two knee surgeries later, it was time to hang up the pads and jersey and focus on other avenues of fitness. After a couple years of random exercise and losing almost 100 pounds, the realm of powerlifting piqued his interest. With a humbling first meet in May of 2017 where he missed all 3 squats, 2 bench attempts, and a final deadlift, his passion for the sport grew exponentially. Instead of letting that defeat him, he went to the drawing board and started building a solid foundation to come back 15 months later and take first in his weight class and division. He has since done two other competitions and has a best total of 1,257 pounds, deadlifting almost 600 pounds.
After graduating with his Bachelor's degree in Psychology from The University of Akron in 2017, he wanted to pursue the physical side of people as well as the mental. Nathan received his personal training certification from ACE in December of 2018 and looks forward to working with many people who have the main goal of getting better. He understands the importance of a healthy mind and body and how positive choices can create a much more enjoyable life. In his professional life he works in Human Resources for a local nonprofit where he does recruitment, coordinates their volunteer program, and other tasks that involve employee engagement. Nathan enjoys walking his dog and listening to podcasts and music in his free time.
Currently, he is training for the Akron Marathon Relay and has his eyes set on another powerlifting meet by his 24th birthday.
Nathan specializes in: Strength training, weight loss, and cognitive reframing.